Differances in 1987 - 89 & 1990 - 93 Instrument Clusters
The following pictures I took of actual 1989 & 1990 instrument clusters. The 1987 - 89 clusters are the same between the LX, LX 5.0 and GT. The only difference being in 1989 they upgraded the LX 5.0 and GT's with 140 mph speedometers. It is a popular upgrade for 1987 & 1988 owners of 5.0's after all 85 mph speedometers in a V8 car? Did they think we always drive the speed limit?
In 1990 a drivers side airbag was introduced and to make room for the changes they made slight changes to the instrument cluster. Visually with the outer trim bezel in place there is really very little difference. You can actually swap the bezel between the non-airbag and airbag cars. The speedometer and tachometer however are different.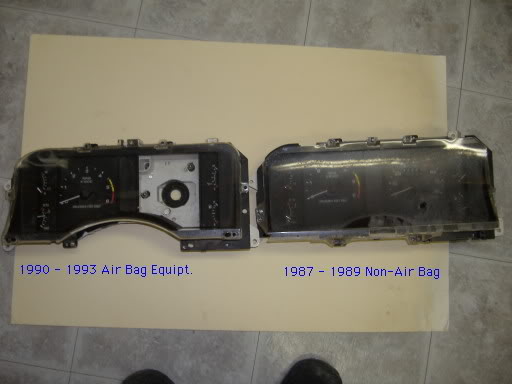 At first it appears that the 90 - 93 gauges could be used in the older cluster, but closer examination shows that the necessary lighting for the gauges is in different locations. To start is a side by side photo of both clusters. The speedometer in the 90 cluster has already been taken out. The remaining photos will be displayed side by side as they are striped down to the bare cluster.