This 1980 Mercury Capri was my first adventure into the 3rd generation Mustangs. Having sold the Mach1 I still needed transportation for school that was easier on my pocket.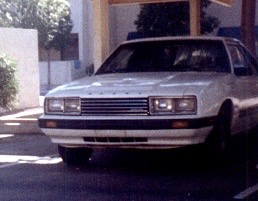 This is the earliest picture I have of this car. It was a basic L model with no frills. 2.3L 4cyl, automatic. Light blue cloth seat interior. Basic steel wheels with hub caps.
My brother at the time owned a 1982 Mustang GT that he had swapped in a 1987 5.0 H.O. from a LX rollover. I clearly remember the hard spanking it gave my Mach 1 and it left me very impressed.
I realized that the Capri being a 2.3L car had the correct K-member to do a 5.0 swap, so of course the mod bug bit and I couldn't leave it be.
Now being on a students budget a full out 5.0 swap was out of my reach for a while. I did how ever have at my disposal many parts from an other parts Capri and fox body Mustang.
First of all I actually prefer the "bubble hatch" that was used on the 1983 - 86 Capris. Those years of Capri actually had the lowest drag co-efficient of all the Mustang & Capris ever built. We happen to have one and even though it had a small dent in it I put it on my car.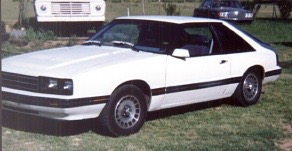 I dumped my steel wheels and hub caps and used the original wheels from my brothers 82 GT ( he had switched to the 87's 15" 10 holes).
We had a Capri RS style grill so I swapped that out as well as the black headlight trim and added a passenger side mirror.
I also wanted to go with the "euro" look so I painted my front roof pillars black and whited out my mirrors.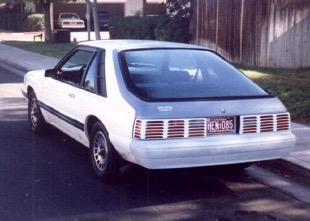 One feature I really like on the Capri that the Mustang didn't have was the flared-out fenders, I feel it gives it a more aggressive look. During this time we actually helped build 2 Capri to Mustang conversions, using the Capri body with the Mustang aero-nose, rear bumper cover and flush side windows. In one car it included the whole 87 style interior.
I was inspired to do the same to my Capri. I traded someone my original tail lights for some GT lights and found an LX bumper cover. I had another "bubble hatch" with no dent come my way so I swapped out my old one as well.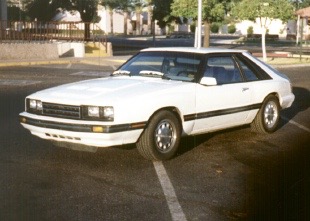 Eventually I was able to purchase my own set of 15" 10 holes and installed them on the car. And while not in these pictures I got the flush Mustang rear quarter windows as well and was working on other body parts.
Interior wise I had picked up a full set of front and rear seats out of an 86 GT and I installed the rear view mirror from a convertible with the built in lights.
I even managed to pick up and install a 8.8 rearend.
Everything was slowly coming together nicely and then disaster!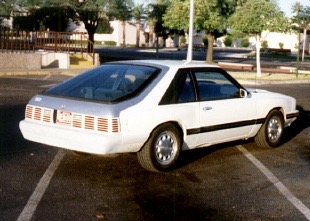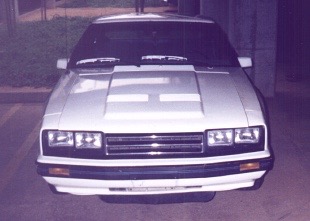 Driving to school one day the little 2.3L decided it had enough and puked out leaving me with a dead car. I held on to it for a while and tried to budget in a replacement motor but it just wasn't meant to be while I was still in school.
I eventually traded off the car minus some of my parts that I kept, plus some cash for a 1969 Ford truck.
Years later I learned that the shell of my Capri ended up in a Mustang parts wreaking yard ran by an acquaintance of mine. It was sad to see what my dreams for this car had come too.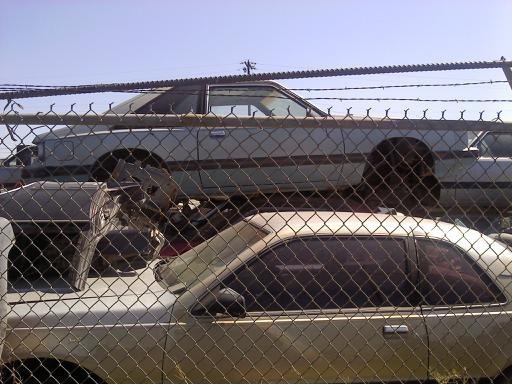 Even though the Capri to Mustang conversions looked good back in the day the way I feel about the Capris now I can rest assure to any 4 eye Mustang/Capri fans out there I would never ever consider doing that to one now.
Capris are very rare now so please keep them Capris and keep them running!