My time with this car actually starts in 1988 but I didn't become the owner of it till 1989. My girlfriend at this time was driving around in the white 1971 Fastback pictured here.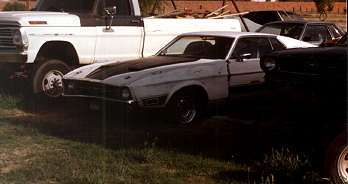 Even though the car looks junked here it was actually driven this way! Scary! Anyway when I met her she believed the car was a Mach 1, because who ever she had purchased it from told her it was and also they had painted it similar to the 1973 Mach 1.
The only visual give away from this photo that it is NOT a Mach 1 is the chrome front bumper.
The car also did not have the honeycomb grill or rear inserts, and the thing I showed her that was proof positive and made her finally believe me was the missing "05" body code in the VIN.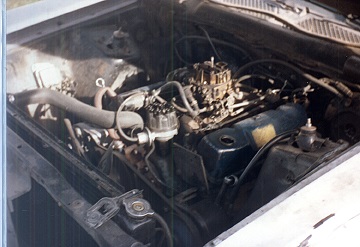 The saving grace of this car however was it did have the "M" code 351 4V Cleveland rated at 285 h.p. and C-6 automatic. The car was a death trap and accident waiting to happen and I witnessed it first hand. Following her one day, a tie-rod end let loose and she slammed into the side of the truck next to her, luckily no one was hurt.
So the car was parked and a search was on for a replacement.
My brother was working for a towing company at the time and told me there was a fastback Mustang like hers his boss was clearing the title on soon and was going to sell for the storage cost. I expected another pile of junk but was pleasantly surprised when I seen the red 1973. On closer examination I discovered the car was an authentic Mach 1. Two weeks and $800 later I was diving the car home to my girlfriend.
Other than the paint and some fake fur that had been attached to the backs of the fold-down rear seat the car was all original. My GF removed the nasty fur and we put in replacement carpet. The other thing she did was put the Keystone Classic wheels off her 71 onto the 73. I really protested this as the Keystones where a uni-lug and cheesy looking on the car. I convinced her to let me keep the original wheels and I put them in storage.
The original engine in the 73 was also a "M" code motor, unfortunately in 1973 that meant it was the 351 Windsor rated at only 164 h.p.* and backed by a C-4 automatic. Not the most powerful combination for a car that weights in at over 3100 lbs. We both agreed that despite of originality we where going to transplant the 351 Cleveland/C-6 combonation from her 71 into it.
*(Starting in 1972, h.p. rating where S.A.E. net, measured at the rear of the transmission, with all accessories installed and operating. For comparison the same engine in 1971 was rated @ 240 h.p.)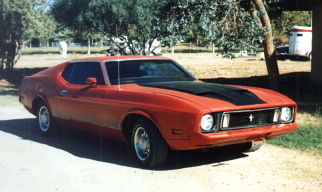 While decoding the body tags we also discovered that the car was originally Argent with black Mach1 accent stripes. The hood was the non-functional ram-air style. It still had the original black interior and as stated before had the optional fold-down rear seat with cargo pass-thru door. Only thing missing from the interior was the factory radio.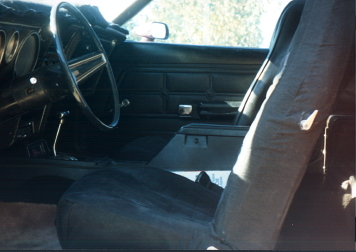 Like so many short lived romances we soon separated, she was in need of money and even though my financial situation was not much better I purchased the car from her. I was in need of a car because my Ninja had been stolen and my Escort had major electrical issues so I had gotten rid of it. The main reason though I missed my 1969 Mustang and after 6 years was really wanting another Mustang.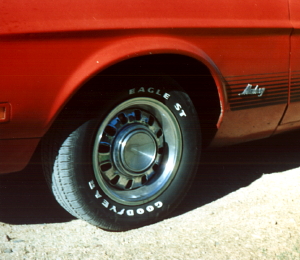 I held on to the car for a while putting the original style steel wheels back on it and doing further cleaning of the car and replacing a few odd and ends items to return it back to original. My first plan for the car if I had kept it was to return the paint back to the original argent/black stripes combination, because I really do not care much for red cars.
During this time I had decided to try and go back to school, so dealing with life's expenses, school expenses, and trying to build up a car wasn't working for me.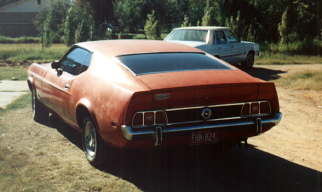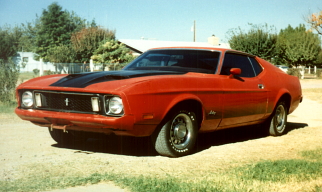 The engine was getting tired and the transmission was going to need attention soon, I knew I couldn't afford it or have the car down so I put it up for sale. My brother had a 1980 Capri that was for sale he agreed to sale to me cheap, plus being a 2.3-4 cylinder it would be cheaper on fuel and insurance. So a few weeks after I put it up for sale a couple that had a few older mustangs agreed to my price and it was gone.
These few pictures and a few memories are all I have left now and sometimes looking back I think maybe I should have kept the car, but if I had I might not have ever started my adventure into the 3rd generation Fox Body Mustangs.